Mobile App for Assessment of Traumatic Brain Injury FDA Approved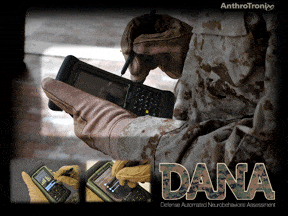 A new app called the Defense Automated Neurobehavioral Assessment (DANA), runs on multiple mobile platforms and was recently granted U.S. Food and Drug Administration (FDA) approval. The app will soon be available to help clinicians diagnose traumatic brain injury in as little as five minutes in almost any setting, including a combat environment.
According to the U.S. Army Medical Research and Materiel Command (USAMRMC), DANA operates much like a video game. Service members will undergo a baseline series of on-screen exercises during which both their speed and accuracy are recorded. Those who may have had a serious head injury will then participate in a series of both cognitive efficiency tests and self-administered questionnaires. Afterward, a clinician will review the results, comparing them with the results of the baseline exercises. The combination of the app's cognitive and psychological components allows for insight into the prevalence of symptoms related to both traumatic brain injury and posttraumatic stress disorder.
Additional Info
Lathan C Mil Med. 2013 PubMed Article
Army.mil website
AnthroTronix