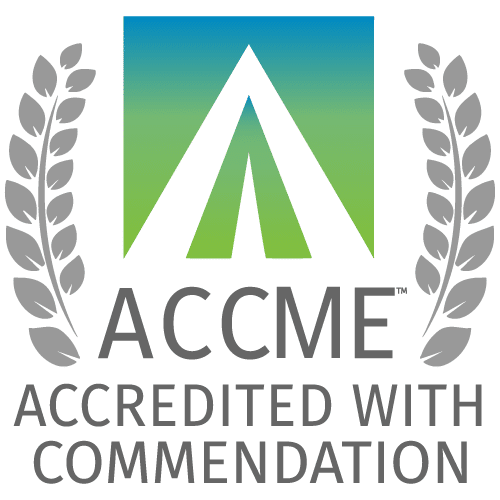 For the third consecutive time, CME Outfitters has been reviewed by the Accreditation Council for Continuing Medical Education (ACCME) and awarded Accreditation with Commendation, for six years as a provider of outstanding continuing medical education (CME) for physicians. Accreditation with Commendation is awarded only to top U.S. CME providers that exceed requirements criteria and accreditation policies.
For CME Outfitters, the process for reaccreditation started April 1, 2012 – just after receiving Accreditation with Commendation for the second time. With every activity we plan, we are consistently thinking about how we can grow and build our programs to better engage our learners, improve patient outcomes, and measure our success. This careful planning culminates in a 15-month self-study process prior to reaccreditation. The accreditation team at CME Outfitters spent last year reviewing our activities and pulling examples of how we meet, and exceed, each of the ACCME Accreditation Criterion. To earn Accreditation with Commendation, CME Outfitters has proven our activities meet or exceed all 22 accreditation criteria, including top-level criteria covering engagement with the medical environment.
Accreditation in the ACCME system seeks to assure the medical community and the public that CME Outfitters delivers only high-quality education that is relevant to clinicians' needs, is evidence-based, evaluated for its effectiveness, and independent of commercial influence.  The ACCME system employs a rigorous process for evaluating institutions' CME programs according to standards that reflect the values of the educator community and aim to accelerate learning, inspire change, and champion improvement in healthcare. Through participation in accredited CME, clinicians and teams drive improvement in their practice and optimize the care, health, and wellness of their patients.
Among the commendation-level criteria, CME Outfitters provided evidence of the following:
Operating in a manner that integrates CME into the process for improving professional practice – through the development of initiatives that include outreach to patients and competency-based branched logic simulation CME activities.
 
Utilizes non-education strategies to enhance change as an adjunct to its activities – such as enhancing learner change in the planning process to include SMART goals, follow-up emails, and surveys to review key aspects of the activity.
 
Participates within an institutional or system framework for quality improvement – through an initiative partnered with key stakeholders, CME Outfitters worked to decrease the number of rehospitalizations in patients with heart failure. The initiative, in collaboration with accountable care organization Catalyst Health Network, targeted cardiologists, internists, and the multidisciplinary team at local and national levels to facilitate improvements that align with PQRS quality measures.
 
In addition to ACCME Accreditation with Commendation, CME Outfitters is accredited by the ACPE and CBRN. As part of our commitment to educating clinicians, our accreditation department offers joint providership opportunities for unaccredited organizations wishing to hold an educational activity certified for CME or CE.
About the Author
Whitney Faler
Director of Accreditation
CME Outfitters, LLC
Follow me on Twitter: @wefaler