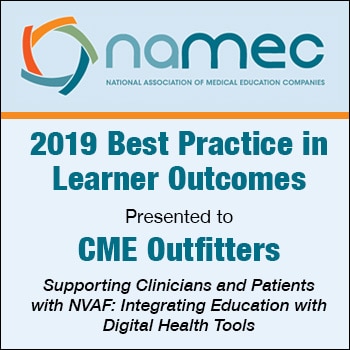 Chances are, you've participated in a CME activity at some point in your career. You took a course, learned something new, and used that knowledge to improve your skills.  The goal of every CME activity is to have a positive impact on learner outcomes so that, ultimately, patients also experience improved outcomes. So, as a CME provider, we're constantly looking for ways to improve our participants' learnings.  We're happy – and proud – that our work in Non-Valvular Atrial Fibrillation (NVAF) was honored with an award for Best Practice in Learner Outcomes from the National Association of Medical Education Companies (NAMEC) during the Alliance for Continuing Education in the Health Professions (ACEhp) annual meeting in January. Learners improved their screening for NVAF by 51% after participating!
Improving Learner Outcomes in Medical Education
Learn more about the innovative CME that led to these outstanding outcomes:
Non-Valvular atrial fibrillation (NVAF) is the most common arrhythmia in clinical practice and is a leading cause of morbidity and mortality. Patients may not notice symptoms that warrant care-seeking, and physicians may not have an index of suspicion relative to those patients at high risk for NVAF.
This unique educational intervention teamed a panel of cardiologists with primary care clinicians to address the impact of NVAF in primary care settings and recommend action for improved outcomes through better screening, diagnosis and management. Evidence was supplemented with tools to implement in practice to improve screening, provide access to a cardiologist through the use of e-consults, and to support patients with NVAF through digital health coaching.
The CME/CE included:
Live 90-min CME/CE panel discussion + enduring webcast.  Pre- and post-activity surveys were administered to assess knowledge, confidence, and performance. The evaluation gathered demographics and commitment to making changes in practice.
Health Care Professionals (HCPs) were provided access to e-Consults, digital health coaching, and patient education.  E-Consults offered access to cardiology consults for NVAF. PackHealth digital health coaching offered patients with NVAF coaching support to improve adherence and quality of life. A patient whiteboard served as an educational tool for patients to improve health literacy.
Quantitative and qualitative data collection and analysis. Data from a 2-month follow-up survey to learners and a group of non-learner controls were analyzed.
Predictive modeling analysis was conducted on data from the post-activity survey to understand the factors that may be involved in determining whether a clinician uses evidence to manage patients with NVAF.
The Results:
When presented with a patient case scenario, 70% of activity learners chose the correct treatment answer compared to 42.9% of controls who did not participate in the education.
Learners were clearly impacted by what they discovered during the activity. Here's what some learners said after completing the activity:
"New guidelines…who knew? As PCPs we cover so many areas that knowing about these guidelines and how we can use them in practice is very helpful."
"This whole digital health world is becoming more prevalent and we can no longer ignore it. I have a love-hate relationship with this stuff. There is so much misinformation and I have to spend twice the amount of time un-educating them, so I'm grateful to have help with this."
"I thought the best point was under-dosing. I learned a lot and I know I have patients that I am under-dosing because I am concerned about the bleeding risk."
"There is so much misinformation in the digital health world that I spend twice the amount of time un-educating patients, so I'm grateful to have help with this."
Making a Difference for our Learners & their Patients
The data and comments underscore that education of primary care clinicians is effective in increasing knowledge and performance for screening for NVAF and providing guideline-directed care.  The activity results also reveal that support tools like e-Consults and Digital Health Coaching are effective in supporting patients outside of the clinic and improving health outcomes.  We at CME Outfitters strive to find new ways to deliver effective CME to our learners as we aim to make a difference for our learners and their patients.
View the NVAF activity, Getting to the Heart of the Underdiagnosis and Undertreatment of Non-valvular Atrial Fibrillation: Integrating Optimal Screening, Team-Based Care and Digital Health Tools in Primary Care Settings on YouTube.
View the patient whiteboard here.
See our upcoming activities here:  www.cmeoutfitters.com
About the Author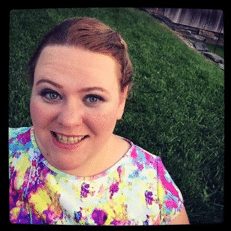 Whitney Faler
Director of Accreditation
CME Outfitters, LLC
Follow me on Twitter: @wefaler