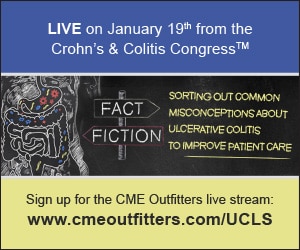 Crohn's disease (CD) and ulcerative colitis (UC) are chronic inflammatory bowel diseases that impact over 1.6 million Americans. The nature of the gastrointestinal symptoms is felt to be embarrassing by many of those suffering from inflammatory bowel disease (IBD), leading to perceived societal stigma, isolation, fear of being in public, and diminished quality of life.
Over the past decade, many health care and patient advocacy groups such as the Crohn's and Colitis Foundation (CCF) have diligently worked to educate patients and clinicians in an effort to reduce the stigma associated with IBD. World IBD Day is celebrated on May 19 in 36 countries with a range of events such as runs/walks, informational events, and active social media to heighten awareness and share experiences related to IBD.
Have these efforts been effective in improving the public's knowledge of IBD and reducing associated stigma? Jacob Groshek, PhD and colleagues from Boston University sought to study this question. In his recently published paper entitled Media Consumption and Creation in Attitudes Toward Knowledge of Inflammatory Bowel Disease: Web-Based Survey, researchers surveyed 1,200 opt-in, web-based respondents to determine:
How aware is the general public of IBD and what are the features of the social stigma surrounding IBD?
How knowledgeable is the general public regarding IBD and how does that knowledge vary across social groups
How do different forms of media consumption and creation relate to the knowledge of IBD?
What relationship exists between the social stigma surrounding IBD, knowledge of the disease, and various media uses?
What Dr. Groshek and his team found suggest that IBD awareness among the general public is relatively low, yet it is highly stigmatized evenly across demographic factors, with both fecal-related and otherwise visible conditions such as stoma and skin sores ranking as the most embarrassing manifestations and likely contributing to the stigma. In fact, stigma associated IBD ranked highest among seven disease states including genital herpes, alcoholism, cancer, diabetes, obesity, and HIV/AIDS. Education is key to reducing stigma. As knowledge of IBD increases, stigma decreases. Social media channels play a significant role in shaping perceptions about IBD, but those perceptions can often be negative if inaccurate. The survey found that the most prolific social media content creators were the least knowledgeable. Accurate educational content that separates fact from fiction and addresses misconceptions about IBD is essential.
Similarly, education to gastroenterologists and clinicians managing IBD, and specifically education about ulcerative colitis, plays an essential role in changing misconceptions that have become ingrained over time and shape clinical practice. CME Outfitters invites you to join Dr. David Rubin and Dr. William Sandborn for a live webcast Fact or Fiction? Sorting Out Common Misconceptions About Ulcerative Colitis to Improve Patient Care streamed from the Crohn's and Colitis Congress on January 19, 2018 at 9:00-10:30 AM ET as they present and translate the latest evidence to improve patient outcomes.
Reference
Groshek J, Basil M, Guo L, et al. Media Consumption and Creation in Attitudes Toward Knowledge of Inflammatory Bowel Disease: Web-Based Survey. J Med Internet Res. 2017;19(12):e403.