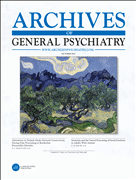 According to a study published in today's Archives of General Psychiatry, attention deficit hyperactivity disorder (ADHD) does not disappear as children grow older. Prospective studies of childhood ADHD have not previously extended beyond early adulthood. Researchers followed 271 patients for 33 years, the longest any research has tracked the disorder. Men diagnosed with ADHD as children had less education as adults, higher rates of divorce and substance abuse, and they spent more time in jail, the research found.
The study involved 135 white men diagnosed with ADHD around age eight and 136 men without a childhood diagnosis. Approximately one in four patients among those diagnosed as children continued to show symptoms in adulthood, the report said. In the ADHD group, 31 percent never completed high school, compared with 4.4 percent in the comparison group. They made about $40,000 a year less on average in their jobs, and they were about three times more likely to have been divorced, be involved in substance abuse or to have spent time in jail, according to the study.
The authors point out that these findings highlight the importance of extended monitoring and treatment of children with ADHD and that these harmful life-long effects suggest that treatment needs to continue into adulthood.