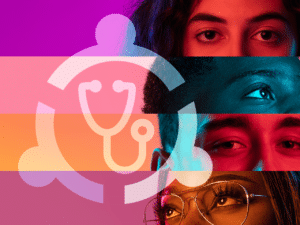 It should come as no surprise that in the American healthcare system racial and ethnic disparities are prevalent that disproportionately affect communities of color. From stigma to barriers to care and longer waiting times in the emergency room (ER), these underserved patient groups often experience inequities that threaten their health. In the past year, the coronavirus disease 2019 (COVID-19) pandemic has shined more light on this very important issue.
What can clinicians do to address unconscious bias and healthcare disparities? A good first step is listening to peers and patients with an open mind. Recognizing that not all causes of inequities are within the control of health care professionals (HCPs), unconscious bias remains an important obstacle that HCPs must address. This is where education can play a significant role. We must all listen, learn, and implement changes that can lead to better outcomes for all.
What is unconscious bias and how does it affect care?
"Black and Brown Americans are often victims of misconceptions about pain, delays in treatment, longer waits in the ERs, and not being believed by some medical professionals. These issues are finally being recognized by providers and the CDC, and it is time to take action."
— Tamiesha Frempong, MD, Mt. Sinai School of Medicine
Unconscious bias reveals itself in many ways in the healthcare system, from the disproportionate burden of pregnancy-related complications among Black and African American women to the way stereotypes manifest in the treatment of pain in communities of color. Even the way medical education is designed and delivered can be a factor that negatively impacts care. For example, the lack of darker skin in textbook imagery can affect a clinician's ability to provide dermatologic care in communities of color.
Current medical education can be described as "too male, too pale, and too stale." We must all make a conscious effort to address this issue that may lead to unconscious bias. These biases can lead to glaring disparities in underserved patient groups.
Unconscious bias, stereotypes, and prejudice are built over time. Education in problem awareness, root-cause analysis, and more can address unconscious bias among medical professionals. In our role as educators, we at CME Outfitters (CMEO) have recognized the increasing need to address health disparities and bias. In our educational activities, we are committed to addressing gaps in knowledge and clinical practice for clinicians—from depression to inflammatory bowel disease—around the topics of racial inequities, bias, and disparities in care.
To more effectively address these knowledge gaps, CMEO is launching a nationwide initiative generously supported by an educational grant from the Johnson & Johnson Institute* to educate clinicians on the issues of unconscious bias and disparities in care. The multi-prong initiative entitled Addressing Unconscious Bias and Disparities in Health Care: A Call to Action will include critical conversations, best practices, and actionable steps that HCPs can use in their own clinical practice.
During the course of the year-long initiative, educational interventions will focus on disparities and unconscious bias in maternal health and pediatrics, oncology, pain medicine, emergency medicine, cardiology and endocrinology, primary care, and elective surgery. As we have learned from our years of educating HCPs, educational content must be relevant to the learner, available in multiple modalities, and include real-world patient scenarios. CMEO's initiative will include content in varied formats, including roundtable discussions, live webcasts, podcasts, patient case vignettes, and a whitepaper.
CMEO is committed to being a catalyst for change for HCPs and for the CME industry itself. Diversity and inclusion are at the heart of CMEO's mission; in fact, 85% of our employees are women. To address the barriers and stigma that can create inequities and impede care, we ensure that our educational activities include faculty panels representing racial and ethnic diversity, data revealing differences in treatment and access among these patient populations, and diversity in the patient voice. Join us! With our excellence in providing accessible, free educational content in multiple digital formats, we believe we can be a guiding force in addressing these issues with HCPs around the globe. Please join us on this journey to make a difference in the health care community, and send us your thoughts and feedback.
---
Access upcoming and on-demand activities at our Diversity and Inclusion Education Hub