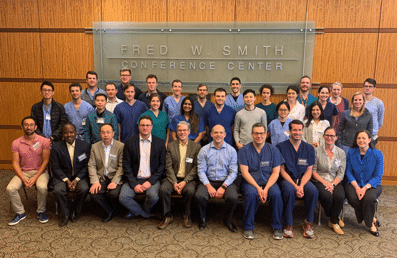 During the last weekend in April, twenty-four Otology and Neurology Fellows from around the world gathered in Little Rock, Arkansas, for the 4th Annual UAMS Otology Fellows Congress.  CME Outfitters worked to secure funding to provide this course for FREE!  This included hotel accommodations, all meals, transportation, and a cadaver lab to practice their skills.  Fellows were responsible for their flights and we handled the rest!
As one of our Fellows outlined in an article she wrote for ENT and Audiology News and International Newsround, "One of the main (and ambitious) goals of the event is to bring together a wide variety of professionals, approaches, experiences, and knowledge. Social activities played an important role in this aim…made possible by the course having no subscription fee, with meals and lodging also being generously provided."
Here are a few comments from other Fellows:
"This is the best course that I have been to. The quality of instruction, materials, organization were all excellent….I learned a tremendous amount and have no doubt that what I learned will have a major impact on my practice next year."
"This was an outstanding course.  It more than met my hopes and expectations of the course and I really feel I have acquired lots of skills for my fellowship.  Also, the faculty were the most encouraging faculty I have encountered on any course to date."
"Best dissection course I've been to.  Great lectures, lab facility, and surgical instruction.  The course faculty were exceptional."
Faculty feedback was also positive:
"Very helpful."
"Awesome as always."
"Very impressed by their professionalism and attention to detail, as well as their kindness throughout the meeting."
These comments from the Fellows and world-renowned faculty presenters solidify our Meeting Management team's commitment to white glove service.  One faculty member went so far as to say, "This is an outstanding course – the best I've ever participated in as faculty or during training."
What sets us apart?  Our attention to detail, our organization, our preparation.  We begin by researching budget line items and submitting grant proposals.  Then we get to work securing vendors, including hotel, airfare, car service, catering, commercial supporters, and ordering lab supplies.  We work tirelessly and triple-check to ensure we're under budget.  We're the first ones to arrive and the last to leave.  During the meeting we keep a running tab of what's working and what we can improve on for next year.  We never settle.
We have Meeting Management down to a science!  Call us at 624-328-4500 or click here to discuss how we can partner together on your next meeting!
About the Author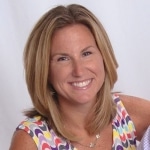 Justine Gunvalsen
Logistics Coordinator
CME Outfitters
@JEGunvalsen