Your Source for Gastroenterology Education and Tools
Challenges abound for patients and clinicians alike when it comes to managing gastrointestinal diseases,  making it imperative that all stakeholders on the care team—including the patient—continue to hone their knowledge, confidence, and best practice strategies to improve outcomes.  But direct patient care is just one piece of the inflammatory bowel disease (IBD) puzzle.  The burden of prior authorization related to biologic medicines can significantly impact clinical workflows. Yet, according to a recent survey from the AMA, only 30% of surveyed practices reported that their office lacks a formal process for handling the PA workload.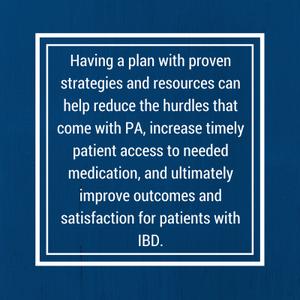 If this sounds familiar, you've come to the right place.  CME Outfitters' Gastroenterology Education Hub provides clinicians with the education and resources necessary to optimize their approach clinical care, as well as prior authorization activities and resources that will help the entire care team—nurses,  nurse practitioners, physician assistants, and medical assistants – immediately improve their PA process to ensure consistent approvals that minimize administrative time and streamlines communications with payers.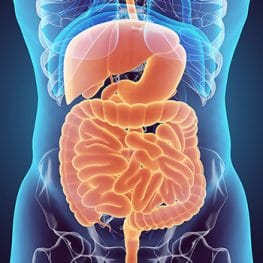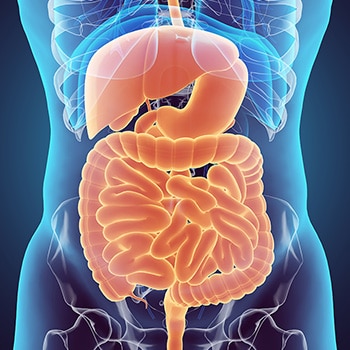 We've added videos and checklists to share with your patients to help them better understand the process and how they can contribute as advocates for their care. Participants who complete the entire prior authorization series will receive not only CME/CE credit but will also be awarded a Certificate of Excellence in Prior Authorization.
Participate in the free CME activities, ask our faculty your tough questions, and download the resources below to improve care and process in the management of patients with IBD.
Putting Processes in Place to Minimize Disruption
I am a new medical assistant trying to manage my time. Do you recommend setting aside specific parts of the day to work on prior authorizations? Or does your office squeeze them in where they can?
"I would recommend setting aside a specific part of the day to work on prior authorizations. This ensures that PAs are completed in a timely manner and minimizes disruptions to the workflow during that time. Our pharmacy technician who submits PAs generally does so first thing in the morning before the AM clinic session gets started and providers begin approaching her with questions." – Toni M. Zahorian, PharmD, BCACP
Documenting Decisions in the EHR
I am a fan of vedolizumab but it seems to be the biologic that gets questioned most often. Do you have any tips for pre-empting that?
"I would point out that the FDA approved vedolizumab for moderate to severe ulcerative colitis and Crohn's disease, but did not require that the patient fail an anti-TNF before approving vedolizumab. The AGA Clinical Care Pathway position vedolizumab equally with anti-TNFs as first line treatment for UC and CD. Similarly, the ACG CD Guideline has recommended vedolizumab as first line treatment for CD. I would refer to these position papers in your PA and/or appeal for a denial." – Francis A. Farraye, MD, MSc
What do you think will happen with tofacitinib? Because it is an oral, do you think that it will be easier to get PA through?
"We will have to see if insurance companies will position tofacitinib relative to the biologics for moderate to severe ulcerative colitis. The PI for tofacitinib doesn't require failure of an anti-TNF or vedolizumab and therefore is appropriate choice as first line therapy for moderate to severe UC." – Francis A. Farraye, MD, MSc
Do you prescribe anything for patients while they are waiting for prior authorization (steroids, for example)?
"Every patient is different so it's hard to make a blanket recommendation. If the patient is sick, a short course of prednisone or budesonide is often prescribed.  Efforts are underway by national and local GI societies to mandate insurance companies respond to a PA or request for appeal within 2-3 business days." – Francis A. Farraye, MD, MSc
I always seem to get a retired physician for my peer-to-peer reviews and it is very frustrating. Can you provide some strategies that have been effective in being assigned someone that has experience and knowledge about IBD?
"When requesting a peer to peer, specifically ask to speak with a gastroenterologist given the complex nature of managing IBD. If the request is denied, ask the insurance expert his or her name and specialty. Be firm but courteous and make your case. If the insurance clinician approves your request, thank them and specifically ask for them when dealing with PAs for this insurance company. If the clinician denies your request, explain that you are very disappointed and state that you feel the case be decided by a gastroenterologist and request to speak with one as you feel strongly that your request is the best option for the patient." – Francis A. Farraye, MD, MSc
When you use the electronic PA system, does it allow you to save your information so that you have it for the files?
"Yes, when using Navinet (via CoverMyMeds) all PA submissions are saved and can be viewed upon login. If your username is provided by the institution, you may also have access to view previous PA submissions from anyone linked within the same institution. This is helpful when taking over for someone who has changed positions or when sharing responsibilities among a group." – Toni M. Zahorian, PharmD, BCACP
In slide 12 about appeals, it talks about escalating the process through different levels. How long do you usually wait before moving to the next level of appeal?
"There is no correct answer. The sicker the patient, the shorter the time I am willing to wait. I would send repeated faxes, email, or calls every two days explaining the severe nature of the patient's illness." – Toni M. Zahorian, PharmD, BCACP
Have you had any luck with the state Department of Insurance?
"I would say we are highly successful with Medicaid in Massachusetts. If a PA is denied, Mass Health will request additional submissions including clarifying information, but does not allow for appeals. However, they do allow for peer-to-peer reviews if needed." – Toni M. Zahorian, PharmD, BCACP
I really liked the information video for patients about keeping up with insurance. I think it will be helpful information to send home with them.
"We are gratified to hear that you found the material useful. Our goal was to offer practical approaches to dealing with the PA process." – Francis A. Farraye, MD, MSc
Don't see your question here? Submit one to be answered by our faculty!