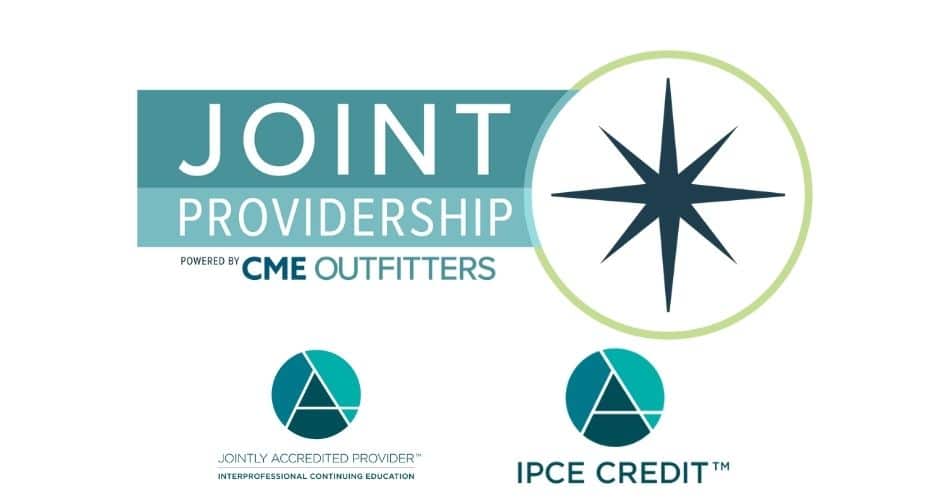 Joint providership is when two organizations, an accredited provider and a non-accredited provider jointly develop and implement an accredited activity. The accredited provider (CME Outfitters) assumes responsibility for any CE activity when it is presented in cooperation with a non-accredited institution or organization. An ACCME-defined ineligible entity (commercial interest) cannot take the role of the non-accredited entity in a joint provider relationship.
What are the fees to become a joint provider with CME Outfitters?
CME Outfitters personalizes every proposal for each client based on their needs. Please contact CMEO Joint Providership to discuss your educational activities and the services you require.
I've seen CE providers charge a per participant fee and it's difficult to know exactly how many will attend my meeting to know my final cost. Does CME Outfitters charge fees like this?
No! Unlike other providers, CME Outfitters does not charge a per participant fee. You will not see an additional bill if you have higher attendance than expected. We'll be cheering for your success, not charging you for it.
What is Joint Accreditation?
Joint Accreditation for Interprofessional Continuing Education™ offers organizations the opportunity to be simultaneously accredited to provide continuing education activities for multiple professions through a single, unified application process, fee structure, and set of accreditation standards. Jointly accredited providers may choose to award single profession or interprofessional continuing education credit (IPCE) to athletic trainers, dentists, dietitians, nurses, optometrists, PAs, pharmacists, physicians, psychologists, and social workers without needing to obtain separate accreditations. Joint Accreditation for Interprofessional Continuing Education™ is the first and only process in the world offering this benefit.
What is Interprofessional Continuing Education?
Interprofessional continuing education (IPCE) is when members from two or more professions learn with, from, and about each other to enable effective collaboration and improve health outcomes (ACCME, ACPE, ANCC 2015).
What types of activities qualify for CME/CE credit?
• Didactic lectures and live meetings in which learners are physically or remotely present
• Enduring materials: previously recorded or published content
• Journal-based CME: peer-reviewed journal articles
What are the different credit designations that CME Outfitters offer?
As part of its Joint Accreditation status, CME Outfitters' collaborating accreditors include:
Accreditation Council for Continuing Medical Education (ACCME)
Accreditation Council for Pharmacy Education (ACPE)
American Nurses Credentialing Center (ANCC)
American Academy of PAs (AAPA)
American Dental Association's Continuing Education Recognition Program (ADA CERP)
American Psychological Association (APA)
Association of Regulatory Boards of Optometry's Council on Optometric Practitioner Education (ARBO/COPE)
Association of Social Work Boards (ASWB)
Board of Certification for the Athletic Trainer (BOC)
Commission on Dietetic Registration (CDR)
CME Outfitters also holds independent accreditations with the California Bord of Registered Nursing and the Dental Board of California.
In addition, we offer CE activity application and approval services for the following disciplines:
NASW – National Association of Social Workers
AAFP – American Academy of Family Physicians
Maintenance of Certification (MOC)
EACCME – European Accreditation Council for Continuing Medical Education
And many others
How are hours of credit calculated?
Per  Joint Accreditation and our other accrediting bodies: 60 minutes equals one (1) hour of CE credit. Credits can be divided into fifteen (15) minute increments (.25, .50, .75). Credit is rounded down to the nearest 15-minute increment.
Can non-US licensed physicians be awarded AMA PRA Category 1 Credit™?
Yes! AMA PRA Category 1 Credit™ may be awarded to any physician (defined by the AMA as MDs, DOs, or international physicians with equivalent degrees from other countries). The requirements for awarding AMA PRA Category 1 Credit™ to US and non-US licensed physicians are the same.
Can non-physicians be awarded AMA PRA Category 1 Credit™?
No. Non-physician healthcare professionals and other participants cannot be awarded AMA PRA Category 1 Credit™. However, CME Outfitters will issue a certificate of participation stating that the activity was certified for AMA PRA Category 1 Credit™.
If I'm only planning the activity and not an active faculty member, why do I need to complete a financial disclosure form?
The Standards of Integrity and Independence for Accredited Continuing Education  requires CE providers (i.e., CME Outfitters) to require everyone who is in any position to control the content of an educational activity to disclose all financial relationships with any ineligible entities (formerly known as commercial interests) in order to prevent any introduction of commercial bias in the educational content.
Is it okay for a pharmaceutical or device sales representative to bring food for our meeting?
No. Pharmaceutical and device sales representatives or any representative of medical product/device manufacturers cannot pay directly for food. They can, however, provide an educational grant to your organization in support of the food costs. A signed letter of agreement (LOA) between the company, CME Outfitters, and the non-accredited joint provider must be signed prior to the start of the activity.
Can a pharmaceutical or medical device company choose who will speak at our meeting?
No. It is up to the activity medical director and planning committee to select appropriate topics and speakers for their accredited activity based on the target audience's educational needs.
We received grant support from a pharmaceutical company and a representative would like to attend the meeting, is that allowed?
Yes. Representatives from pharmaceutical and medical device companies may attend your meeting but may not wear their own name tag or speak to the group in the education space (no post-meeting sales pitch before everyone leaves the room). They should be given the same name badge as attendees are given (if your meeting has name badges).
What are ineligible entities/commercial interests?
An ineligible entity / commercial interest, as defined by the ACCME, is those whose primary business is producing, marketing, selling, re-selling, or distributing healthcare products used by or on patients. The ACCME does not consider providers of clinical services directly to patients to be commercial interests. A commercial interest is not eligible for ACCME accreditation directly or via a joint provider relationship. Ineligible entities can be for-profit or non-profit organizations.
What is the difference between exhibits and grants?
Exhibit revenue is completely separate from commercial support (grants). Exhibits are never a condition for the recipient of an educational grant (commercial support). Should an exhibit be requested or any other marketing arrangements, a separate agreement must be entered into with the appropriate party from the commercial interest. A fee will be charged for securing exhibit space, and the fee will be consistent for any exhibitor regardless of the organization's involvement in the provision of an educational grant for the accredited activity. Exhibits must be kept separate from the accredited activity.
What is commercial support?
Financial, or in-kind, contributions given by a commercial interest, which is used to pay all or part of the costs of an accredited activity. The definition of roles and requirements when commercial support is received are outlined in the ACCME Standards for Integrity and Independence.