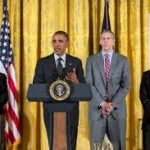 This week, the White House organized a conference on mental health with a particular emphasis on stigma and awareness. President Barack Obama opened the conference by calling for a more robust national discussion on mental illness, saying the time had come to bring the issue "out of the shadows." He added, that his goal was to let people who are affected by these issues know they should not suffer in silence.
"Struggling with a mental illness or caring for someone who does can be isolating," Obama said. "It begins to feel as if, not only are you alone, but that you shouldn't burden others with the challenge."
Top administration officials, along with actors Bradley Cooper and Glenn Close, were among those participating in the White House conference. Cooper has been promoting mental health awareness since his Oscar-nominated leading role as a man with bipolar disorder in last year's "Silver Linings Playbook."  Close said Monday that her experience is "a family affair," and that her sister, Jessie, was diagnosed with bipolar disorder at 51 and Jessie's son, Calen, was diagnosed with schizoaffective disorder at 19. Close started a non-profit called Bring Change 2 Mind, which produces public service announcements to fight the stigma and discrimination associated with mental illness.
The conference agenda includes discussion of insurance coverage for mental health care and substance abuse, recognizing the signs of mental illness in young people and improved access to services for veterans. The overall goal is reducing the stigma of mental health problems and encouraging those who are struggling to get help.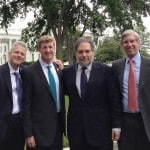 The American Psychiatric Association (APA) was well represented at the National Conference on Mental Health hosted by President Obama and Vice-President Biden.
Invited to attend the conference were APA President Jeffrey Lieberman, M.D., Psychiatric News Editor-in-Chief Jeffrey Borenstein, M.D., who is also president and CEO of the Brain & Behavior Research Foundation, and APA President-elect Paul Summergrad, M.D. Summergrad was representing the American Hospital Association, where he is chair of  the Governing Council for Psychiatry and Substance Abuse Services. (In photo, from left, are Jeffrey Borenstein, M.D., Patrick Kennedy, Paul Summergrad, M.D., and Jeffrey Lieberman, M.D.)
To provide information and resources about mental health, the Department of Health and Human Services today launched a new Web site, www.mentalhealth.gov.