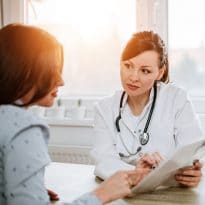 Shared decision-making (SDM) in health care is a collaborative process of communications in which clinicians and patients work together to make informed health care decisions that align with what matters most to patients and their individual concerns, preferences, goals, and values.
SDM increases patient satisfaction, health outcomes, and quality of decisions, and studies have shown that patients and physicians alike want more SDM in treatment. However, effective SDM requires competency at the provider, patient, and system levels. Let's take a look at different types of SDM and how physicians can easily implement aspects of SDM into practice.
"The patient voice needs to be heard at an individual and collective level…[G]reater recognition of the value of the patient voice will allow a reorientation of both medical research and clinical practice around the patient perspective and ensure that the priorities of researchers, clinicians, funders, and policymakers are aligned to the needs and priorities of those who experience disease." – Dean S, et al. Br J Opthalmol. 2017;0:1-9.
SDM Models
Several different models of SDM can be implemented, depending on the patient, the problem to be addressed, and other factors.
OPTION Model1
The OPTION scale assesses the overall SDM process and examines whether problems are well defined, whether options are formulated, information provided, patient understanding and role preference evaluated, and decisions analyzed examined from both the professional and patient perspectives.
The Three-Talk Model2
Another model proposes three different "talk" phases: team talk, option talk, and decision talk. First, clinicians work to create a supportive relationship with the patient as they introduce the idea of recognizing the existence of alternative actions to form a team with the patient and their family. Second, the clinician introduces the options in a clear way, describing and explaining the probabilities of benefits and harms that might be likely. In the last phase, patients' preferences are constructed, elicited, and integrated.
Interprofessional Model2
More often care is delivered not by individuals but by interprofessional health care teams that include nurses, social workers, and other care providers. In this model, while interacting with one or more health professionals and family members, the patient moves through a structured process including explanation of the decision to be made, information exchange, eliciting values and preferences, discussing the feasibility of the options, the preferred choice versus the decision made, planning and implementing the decisions, and outcomes.
Ecological model2
Measures of patient participation can also be used to measure aspects of SDM. The ecological model of patient participation includes four main components of patient participation:
Information seeking, measured as the number of health-related questions the patient asks
Assertive utterances. e.g. making recommendations to physicians, expressing an opinion or preference, or expressing disagreement
Providing information about symptoms, medical history, and psychosocial factors
Expressions of concern, including anxiety, worry, or negative feelings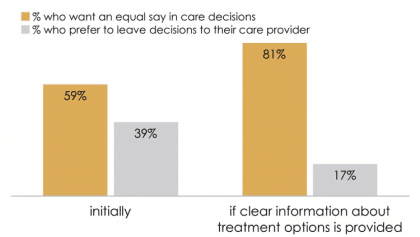 Step-by-Step: Implementing SDM
Health care providers can implement SDM in their own practices. Here are some guidelines to consider:
Physician To-Do's3:
Physicians must first agree that patients should be part of the decision-making process.
Establish and/or review patient preferences for information.
Establish the patient's preferred role in the decision-making process and his/her uncertainty.
Present evidence taking into account the patient's own competencies.
Discuss the patient's role in decision-making, including:
clinical issue or nature of the decision
alternatives
pros (benefits) and cons (risks) of the options
uncertainties associated with the decision
Help the patient reflect and assess alternative decisions with regard to his/her values.
Develop partnerships with patients; connectedness and continuity pave the path to patient empowerment and engagement and predicts self-efficacy.
Physicians should also4:
Build insights and recognition on the necessity of increased patient, family, and citizen engagement in achieving better outcomes and lower costs in health care.
Explore what has been learned about effective approaches for building patient demand and involvement in improving evidence, care, and value—including principles and barriers.
Consider strategies and policies for activities to be undertaken at multiple levels to advance patients, in partnership with providers, as leaders and drivers of care delivery improvement through the protected use of clinical data as well as informed and shared decisions.
Identify important policy and research opportunities for developing the additional insights needed to accelerate progress.
Putting SDM To Work: SDM Resources You Can Use
CME Outfitters is committed to ensuring our education is relevant and addresses areas of most concern to patients and physicians. Our recent activity Shared Decision-Making in Optimal Care of Psoriasis and Digital Tools: Making It Work in Practice speaks specifically to the role of SDM in the care and treatment of patients with psoriasis.
CME Outfitters digital hubs, including our Opioid Education Hubs, Cardiology Education Hub, Dermatology Education Hub, and Gastroenterology Education Hub, provide patient education resources and links to services such as digital health coaching for patients with conditions such as inflammatory bowel disease (IBD), psoriasis, and nonvalvular atrial fibrillation.
Through our partnership with Pack Health, we're offering digital coaching to give patients the support they need between clinical visits.
We've also partnered with WEGO Health to spread the word about these resources to patients as well as gain a better understanding of patient concerns through patient leader surveys, as reflected in our recent webcast Streamlining Preventive Health for Patients with IBD Through Effective Care Models, Evidence-based Guidelines, and Patient Engagement.
For more information on resources, education and other tools you can use in your own practice, visit www.cmeoutfitters.com.
About the Author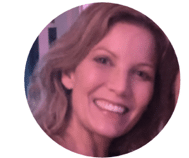 Susan Perry
sperry@cmeoutfitters.com
*****
1Elwyn G, Edwards A, Wensing M, et al. BMJ Quality & Safety. 2003;12:93-99.
2Wikipedia Website. https://en.wikipedia.org/wiki/Shared_decision-making_in_medicine.
3Bernabeo E and Holmboe ES. Health Aff. 2013;32:250-258.
4Partnering with Patients to Drive Shared Decisions, Better Value, and Care Improvement: Workshop Proceedings. February 25-26, 2013, National Academy of Sciences, Washington, DC.