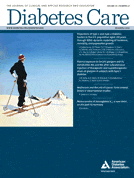 New research from Brigham and Women's Hospital has brought to light the importance of the role of a primary care physician in a population of diabetes patients.  Their findings are published current issue of Diabetes Care.
Researchers evaluated more than 27,000 patients with diabetes who were cared for in a primary care setting at two academic medical centers.  Among these patients, there were nearly 585,000 primary care encounters over an average of five years and five months.  Researchers report that 83 percent of those encounters were with a primary care provider.
Across all patient encounters, medication intensification, defined as either adding a new medication or increasing the dose of an existing medication, happened approximately 10 percent of the time and lifestyle counseling, as measured by documentation in the electronic health record, happened 40 percent of the time.  The overall mean time between encounters was 1.6 months.
However, the odds of medication intensification were 49 and 26 percent higher respectively when a patient had an encounter with a PCP compared with a covering physician or mid-level provider.  Additionally, the odds that lifestyle counseling occurred were 91 and 21 percent higher during an encounter with the PCP compared to a covering physician or another provider.
According to the authors, "access to care is important and covering physicians and other providers play an important role in increasing access, especially in patients with acute complaints. With growing focus on a team based approach to practicing medicine, this finding should help guide the development of new models of primary care, especially in the care of diabetes patients.  Based on this finding, we would suggest better documentation and communication of the treatment plan through the electronic medical record to other care providers in efforts to help to bridge the gaps that we observed in this study."