Poll: Has America Changed Since 9/11?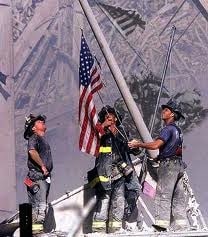 According to CBS News/New York Times poll released last week, more than four out of five Americans say the United States has fundamentally changed since the attacks of September 11, 2001, with about one in four saying Americans are more cautious now.
In the poll of 1,165 adults interviewed by telephone in late August 2011, approximately 82 percent of those asked how the nation has changed, 23 percent of respondents said they are more cautious now than they were ahead of the attacks. And 16 percent of those asked said they are more afraid now.
One-third of respondents said life returned to normal within a year, and more than three out of four asked said life was back to normal within five years.
The 9/11 attacks are still on the minds of many Americans and New Yorkers. 27% of the public thinks about it at least every week, as do 31% of New Yorkers.
Among close friends and family members of those killed that day, a majority say that their lives returned mostly to normal within five years, but just three in ten have completely recovered emotionally from the attacks; 57% say they have recovered partially.
One in four who took the survey believe that the first responders who worked at the World Trade Center immediately after the attacks have not been treated fairly since the attacks; that rises to 58% among New Yorkers.
"A separate poll of 246 adults who said they had lost a close friend or relative on Sept. 11 gave a glimpse of the personal anguish that remains for those most affected by the attacks. Seventy percent of those surveyed were friends of 9/11 victims, 4 percent were siblings and the rest were other relatives.
Most of the 246 people surveyed said they had only partly recovered from the mental trauma of that day. One in six said they had been diagnosed with a mental health problem as a result of Sept. 11, and of those, almost all said they still suffer from it. A third said the children of the friend or relative who died had not yet recovered emotionally.
Most of the friends and relatives surveyed are pleased with the plans for the memorial at ground zero. A majority said Sept. 11 remembrances are a comfort. But nearly 30 percent find events surrounding the anniversaries to be painful experiences, making it difficult to move forward. Three-quarters of those who lost someone close to them say the anniversary of 9/11 should continue to be observed annually, a greater proportion than the general public."
Source: CBSNews & New York Times