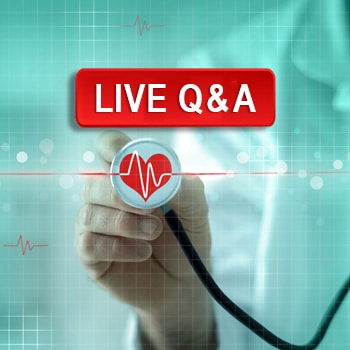 Live Q&A: Keeping the Beat: Screening and Management of High-Risk Patients with Non-Valvular Atrial Fibrillation
Atrial fibrillation (AF) is the most common sustained cardiac arrhythmia, projected to affect 12 million Americans by 2030. However, a significant number of AF cases, particularly non-valvular atrial fibrillation (NVAF) remain undiagnosed, putting patients at risk for severe cardiovascular (CV) complications, including increased risk of stroke. It is imperative that clinicians identify the symptomatology of AF and effectively diagnose NVAF, as these complications can potentially be avoided by increased screening and guideline-directed anticoagulation treatment. Unfortunately, despite the fact that both opportunistic and systematic screening have been shown to be effective in detecting NVAF, clinicians often lack knowledge of the available tools and strategies for implementing it, particularly in primary care settings.
This live question-and-answer session is your opportunity to ask our faculty your questions based on the CME Outfitters Live webcast that took place on October 7, 2020.