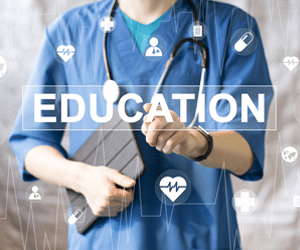 In May of 2020, I wrote about how CME Outfitters transitioned as COVID-19 restrictions halted both in-person events and studio recordings. When our spring activities went completely virtual in 2020, we were hopeful we would be back to in-person events by Fall.
We worked to ensure we had plans for both in-person and online-only as the months ticked on. The CMEO team worked with our technology partners to create dynamic and engaging content for our learners. Our faculty often discussed COVID-19 and the patient population presented in individual activities, noting tips on when to start or stop specific treatments, or how to conduct a virtual visit.
In all, CME Outfitters developed 37 live activities completely online in 2020. We know that our learners are busy and the timing of live events isn't always ideal for everyone, so we added 10 follow-up live Q&A sessions with faculty to allow additional learners to get their questions answered.
We are happy to announce that these Q&A sessions are here to stay! So far, we have already had three in 2021 with five more in the works. All Q&A sessions are recorded and available on our educational hubs as part of our CME resources.
---
Upcoming Q&As:
Live Q&A: Signals of Change in the Management of Atopic Dermatitis
Wednesday, June 23, 2021 | 12:00 PM – 12:30 PM ET
Live Q&A: Hitting Refresh on Excessive Daytime Sleepiness: Managing Patients with Narcolepsy and Idiopathic Hypersomnia
Wednesday, July 14, 2021 | 12:30 PM – 1:00 PM ET
---
It's Not Just Another Webinar: Making Virtual Events Live and Dynamic
The CMEO team looked closely at what was in development when the pandemic hit and how we could ensure that an in-person event could be just as engaging online. Learners experienced live discussions among expert faculty, the ability to ask their questions and receive real-time responses, take notes on slides, save slides that resonated with them, and register for upcoming activities.
Further, we brought in both augmented reality and animations to help explain complex topics. I was proud to be selected to present these educational tools at the Society for Academic Continuing Medical Education (SACME) meeting in February 2021.
View a sampling of our animated models on our YouTube channel:
---
Learning in the Age of COVID-19
As more and more content included COVID-19 information, we added a COVID-19 hub for clinician and patient education with a broad range of videos, downloadable resources, and animations. Our relationships with faculty in multiple disciplines have allowed us to reach out to them to create and share short videos discussing patient management related to sleep and mood disorders. From our virtual symposia, we've pulled out the COVID-19 information related to psoriasis, inflammatory bowel disease, pain management, and more.
As CMEO has evolved over the past year, we also added a new pharmacy-focused hub, called Pharmacist Central, where pharmacists can find education and resources designed especially for them. View an introduction to Pharmacist Central here.
A New Path Forward
As we continue to deliver the best learning environments possible, we're energized and excited by all that technology can bring to the table.
---
Upcoming Live Events from CME Outfitters:
The Role of Pharmacists in Improving Hepatitis B Patient Care: Best Practices You Can Use Parts 1, 2, and 3: Register at CMEO Pharmacist Central
The Team, The Team, The Team: Creating a Short Bowel Syndrome Medical Neighborhood
Thursday, June 10, 2021 | 6:30 PM – 8:00 PM ET
Hitting Refresh on Excessive Daytime Sleepiness: Managing Patients with Narcolepsy and Idiopathic Hypersomnia
Friday, June 11, 2021 | 6:15 PM – 7:45 PM ET
Instagram Takeover & Live Q&A: Ask Me Anything, PrEP with Dr. David Malebranche
June 22, 2021 | 12:00 PM – 12:30 PM ET
Addressing Disparities in Preventive Care for Patients with IBD, Part 1: Vaccination
Thursday, June 24, 2021 | 12:00 PM – 12:45 PM ET
Addressing Disparities in Preventive Care for Patients with IBD, Part 2: Health Screenings
Thursday, July 1, 2021 | 12:00 PM – 12:45 PM ET
The Epidemic Within the Pandemic: Managing Complications in Populations with Obesity
Wednesday, July 30, 2021 | 12:00 PM – 1:30 PM ET
---
About the Author

Whitney Faler
Director of Accreditation
CME Outfitters, LLC
Follow me on Twitter: @wefaler