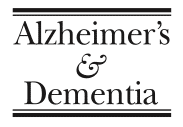 The Alzheimer's Association has published new guidelines to provide primary care physicians with guidance on cognitive assessment during an annual wellness visit.
An expert workgroup assembled by the association, offers new comprehensive guidance on how to assess for cognitive impairment in the primary care setting. The Alzheimer's Association points out that "while physicians are required to include detection of cognitive impairment as part of the Medicare Annual Wellness Visit, until today there has been no comprehensive guidance to physicians on how to accomplish that."
The recommendations are published in Alzheimer's & Dementia: Journal of the Alzheimer's Association and include a process algorithm for clinicians and a list of the brief screening tools for use with patients and family members.
According to William Thies, PhD, Alzheimer's Association chief scientific officer, "By assessing and documenting cognitive status on an annual basis during the Annual Wellness Visit, clinicians can more easily monitor gradual cognitive decline in a patient over time. We urge all primary care physicians to use the recommended step-by-step cognitive assessment process to take full advantage of the opportunity the Medicare Annual Wellness Visit provides — earlier detection of dementia, potentially earlier treatments, better healthcare management for patients and more favorable outcomes for affected families."
Article (pdf)
Alzheimer's Association recommendations for operationalizing the detection of cognitive impairment during the Medicare Annual Wellness Visit in a primary care setting