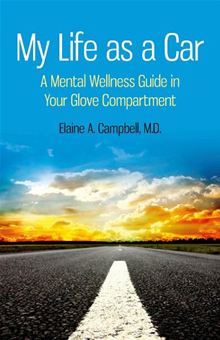 A unique approach to mental health & wellness for everyone is captured by a new book by Elaine Campbell, MD. Dr Campbell is a nurse who continued her education to medical school and psychiatry training. This gives her a unique approach to diagnosis, treatment and life in general. My Life as a Car is meant to reside in your glove compartment and uses the metaphor of automobile use and maintenance in order to outline mental health evaluation and self-assessment similar to a standard diagnostic path that a clinician would use in practice.
The playful metaphor of keeping ones auto in good repair suggests a means for lifting the hood of ones mind to inspect the workings. In a recent interview Dr Campbell points out, "I knew enough about the makeup of my engine to draw analogies. You see, in psychiatry, you'd better know the biopsychosocial background of your patient if you are to make an accurate assessment. So my engine is mine for life, and its assembly was out of my control. Any biological predispositions are waiting to be expressed either in positive or negative ways. This applies not only to psychiatry but to medicine as well. Depression in the family? Diabetes you say with a piece of Mom's apple pie in hand? We need to know our parts and the possibility of an eventual mishap if not cared for."
Her chapter titles demonstrate her approach and are clever enough to seduce people into a casual read. For example:
Your Brain or "Do you want to look under my hood?"
Your Neurotransmitters, or "Reading the Dipstick"
and others
The Gas Pedal, or "I think I can, I think I can"
Wheel Alignment or "What do you mean, I'm Unstable?"
and many more interesting chapters that approach mental health issues in a novel and unique way. This may be an good book to recommend to patients or friends.