Mobile Payments
It seems that no one carries cash today.  A recent article in the New York Times describes that there are merchants that are no longer taking cash. An example of this is demonstrated by some airlines that only take credit cards when offering in-flight meals or drinks. So how does a clinician in private practice manage to negotiate the credit card world and accept payments with minimal investment and few complications?
The simple solution is a smartphone credit card reader. The technology to turn a smartphone into a secure financial transaction device is available and quite user friendly.
There are a few companies that now offer this solution.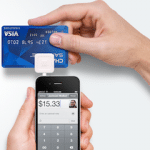 Square was one of the first targeted at the solo or small business merchant. It was created by Twitter co-founder Jack Dorsey and uses a free download and a tiny plastic card reader to let users accept credit card payments. The app is available for several phones using the Android operating system and the iPhone, iPad and iPod Touch as well as the Blackberry.
The Square is a one-inch by one-half inch cube that has on its bottom side an audio connector that plugs into the headphone port on your phone. A slot in the cube lets you pass a credit card through. When you do, a reader converts the data from the magnetic strip into an audio signal and passes it on to software on the phone.
The app charges users 2.75 percent of the transaction cost plus a 15-cent fee if the card is physically swiped through the Square reader. For "card not present" transactions, where the information is typed into the app, the fee is 3.5% plus 15 cents. Both are described as lower than typical merchant fees charged by credit card-issuing banks. Transaction receipts are emailed to the credit card owner.
Other implementations of a credit card reader are similar with a reader that is connected to the phone and an app to download. In some cases, the reader is offered free. Swipe, Mophie and Veriphone offer secure credit card transactions and each varies on the per transaction cost and charge a monthly fee.
On touch enabled smartphones, a transaction is signed right on the screen. The emailed receipt even shows a GPS map where the transaction took place.