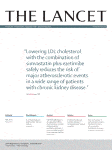 An article in June 25th Lancet reviewed the empirical evidence for the management of chronic non-cancer pain, including the most commonly used interventions such as, pharmacological, physical, psychological, rehabilitative, and alternative modalities.
The authors describe that "despite important advances in understanding of the neurophysiology of pain, the increasing availability of advanced diagnostic procedures, and the application of sophisticated therapeutic modalities and approaches, currently available treatments for chronic pain rarely result in complete resolution of symptoms. Thus, people with chronic pain will continue to live with some level of pain irrespective of the treatment or treatments they receive."
The authors point out that a general conclusion about the treatment of chronic non-cancer pain is that the results presented are sobering. Of all treatment modalities reviewed, the best evidence for pain reduction averages roughly 30% in about half of treated patients, and 'these pain reductions do not always occur with concurrent improvement in function.'
The World Health Organization estimates that only one in five people report chronic pain and that many factors influence patients' experience of pain, including cognitive and emotional elements, history, and pathology — all of which need to be addressed for successful pain control.
To review the empirical evidence for common approaches to chronic pain, the researchers surveyed the literature for systematic reviews, meta-analyses, and guidelines on osteoarthritis, neuropathic pain, fibromyalgia, and low-back pain.
Although guidelines from both the Neuropathic Pain Special Interest Group of the International Association for the Study of Pain and the European Federation of Neurological Societies Task Force recommend opioids as second-line or third-line treatment especially for osteoarthritis and fibromyalgia, they found that opioids were the most commonly prescribed drugs, with sales that increased by more than 175% between 1997 and 2006 — yet these agents were associated with only small improvements in pain and function.
They concluded that none of the widely used treatments are adequate for eliminating pain and improving function in most chronic pain patients.They recommended that combinations of various types of treatment be evaluated, and also advised that helping patients maintain realistic expectations is vital.
They called for more clinical exploration into chronic pain. According to the authors, a clear research agenda is is imperative with sophisticated studies with creative placebo controls for non-pharmacological treatments are needed in addition to a variety of combination treatment studies. "A great need exists for research that goes beyond asking the questions of whether a particular treatment is effective, to addressing what treatment is effective for which patients, on what outcomes, under what circumstances, and at what cost."
Source:
Turk DC, Wilson HD, Cahana A. Treatment of chronic non-cancer pain. The Lancet, 2011 Jun 25;377(9784:2226 – 2235