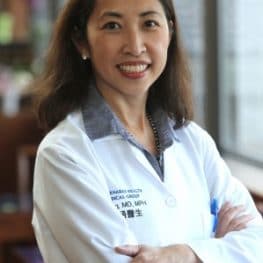 Su Wang MD, MPH
CME Outfitters Faculty
Su Wang, MD, MPH is an internal medicine physician and the Medical Director of the Center for Asian Health at Saint Barnabas Medical Center in Livingston, New Jersey. Dr. Wang served as the Assistant Director of Medical Affairs at the Charles B. Wang Community Health Center in New York City, where she led its nationally recognized hepatitis B programs, including clinical care programs, community based research, a primary-care based model of care and community outreach.
Dr. Wang received her medical degree from the University of Miami as part of the Honors Program in Medicine and obtained a Master's Degree in Public Health from Johns Hopkins School of Public Health. She completed a combined internal medicine and pediatric residency at Georgetown University Hospital. Dr. Wang served as an Epidemic Intelligence Service officer for the Centers for Disease Control and Prevention (CDC).
Dr. Wang is an Executive Board Member for the World Hepatitis Alliance, an international partner with the World Health Organization. She was a reviewer for the Institute of Medicine 2010 report "Hepatitis and Liver Cancer" and the update in 2016 "Eliminating the Public Health Problem of Hepatitis B and C in the United States." She has spoken at the White House for World Hepatitis and is currently Co-Chair of the New Jersey Hepatitis B Coalition and involved with Hepatitis B United, a national coalition representing community efforts in the U.S.