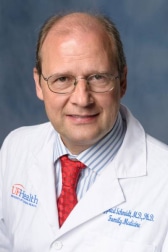 Siegfried O.F. Schmidt, MD, PhD, FAAFP
CME Outfitters Faculty
Dr. Schmidt is Professor of Family Medicine in the Department of Community Health and Family Medicine at the College of Medicine at the University of Florida in Gainesville. He is faculty of the UF Pain Research and Interventional Center of Excellence and the Genomic Medicine Implementation: The Personalized Medicine Collaborative 2 (IGNITE 2). He is a board certified in Family Medicine by the American Board of Family Medicine since 1992. He is Fellow of the American Academy of Family Physicians. He obtained additional certifications in "Controlled Substance Management" by the American Board of Interventional Pain Physicians and "Office-Based Treatment of Opioid Use Disorders" by the American Academy of Addiction Psychiatry.
Dr. Schmidt is part of many professional medical societies and received various high honors in his field, including being selected for "The Best Doctors®" in America, "America's Top Family Doctors®", "Best Teacher Award", "Golden Gator Award" (for excellence and dedication to the education of residents), and UF Health Shands Physician "Customer Service Award" winner.
He is a member of the State of Florida Medical School Pain Management Working Group appointed by the Council of Florida Medical School Deans (CFMSD). Dr. Schmidt has authored numerous books, instructional videos, book chapters, and journal articles. He has participated in multiple grants and has delivered over three hundred international, national, regional, and statewide presentations. He has been instrumental in creating the Pain Management Program within the UF Family Medicine Residency Program at Main Street. He is also a volunteer physician for Alachua County's We Care program and UF's Equal Access Clinic, providing care for indigent populations.