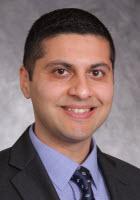 Hassan R. Mir, MD, MBA
CME Outfitters Faculty
Dr. Mir is fellowship trained and board certified by the American Board of Orthopaedic Surgery. He focuses on care of the polytraumatized patient, pelvic and acetabular fractures, and complex periarticular fractures.
Dr. Mir is Director of Orthopaedic Trauma Research at Florida Orthopaedic Institute and Director of the Orthopaedic Residency Program at University of South Florida. Dr. Mir completed his Physician Executive MBA at Auburn University.
Dr. Mir is involved with clinical and health policy research, medical education, and multiple national orthopaedic organizations. He has served as the Digital Editor for Orthopaedic Trauma Association International, on the American Academy of Orthopaedic Surgeons (AAOS) Diversity Advisory Board and Council on Advocacy, on the American Osteopathic Association (AOA) Leadership Committee, on the American College of Surgeons (ACS) Committee on Trauma, and as a consultant reviewer for multiple journals. He has authored several articles and chapters, and has presented his research at numerous national and international meetings. Additionally, he has participated as faculty at dozens of courses and training programs across the country.
Dr. Mir's dedication to education was rewarded with the Resident Teaching Award at both Vanderbilt and at University of South Florida/Florida Orthopaedic Institute. His career productivity has been recognized nationally as a recipient of the AOA/Japanese Orthopaedic Association Traveling Fellowship to Japan, as an AAOS Leadership Fellow, and as an AOA American-British-Canadian Traveling Fellow to the UK/Australia/New Zealand.
Dr. Mir grew up in West Virginia and obtained his undergraduate degree at West Virginia University, where he graduated Summa Cum Laude and was inducted into Phi Beta Kappa. He obtained his Doctor of Medicine from West Virginia University in 2003 and was inducted into Alpha Omega Alpha. In his spare time, Dr. Mir enjoys spending time with his wife and three children.