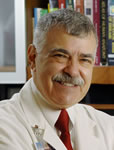 Allan Gibofsky, MD, JD, FACP, FCLM
CME Outfitters Faculty
Allan Gibofsky, MD, JD is Professor of Medicine , Healthcare Policy and Research at Weill Cornell Medicine and Adjunct Professor of Law at Fordham University School of Law. He is an Attending Physician and Rheumatologist at New York Presbyterian Hospital and Hospital for Special Surgery, where he is Co-Director of the Clinic for Inflammatory Arthritis and Biologic Therapy.
Dr. Gibofsky received his undergraduate degree from Brooklyn College of the City University of New York, his MD from Weill Medical College of Cornell University and his law degree from Fordham University. He did his internship in Pathology, followed by a residency in Medicine at New York Hospital. He completed a fellowship in Rheumatology/Immunology jointly at Hospital for Special Surgery and at The Rockefeller University. Dr. Gibofsky has authored or co-authored numerous papers and text chapters, primarily on the immunogenetics of rheumatic diseases and legal aspects of medical practice. He is known for his work on mechanisms of host-microbe interactions in rheumatology, and, in particular for his basic and clinical studies on rheumatic fever as well as for his work on therapeutic strategies in the treatment of inflammatory rheumatic diseases.
Currently Secretary-Treasurer of The New York Rheumatism Association, Dr. Gibofsky is past-Chair of the Medical & Scientific Committee of the New York Chapter of The Arthritis Foundation and received their Physicians' Leadership Award. He also served as a member of the local and national Arthritis Foundation Board of Trustees, and was Chair for Professional Education. Dr. Gibofsky has participated in numerous professional and public education programs, nationally and internationally. He is a past president of the American College of Legal Medicine, and is past Chair of the American Board of Legal Medicine. In 2002, Dr. Gibofsky served as President of The American College of Rheumatology; in 2014, he was named a Master of The American College of Rheumatology.