Major Depressive Disorder and Discrimination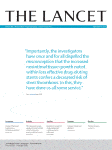 Research published in Lancet this week, assessed the nature and severity of experienced and anticipated discrimination reported by adults with major depressive disorder worldwide.
In a cross-sectional survey, people with a diagnosis of major depressive disorder were interviewed in 39 sites (35 countries) worldwide with the discrimination and stigma scale (DISC-12). Also included in the assessment was the ability to understand and speak the main local language and age 18 years or older.
Findings
1082 people with depression completed the DISC-12. Of these:
855 (79%) reported experiencing discrimination in at least one life domain
405 (37%) participants had stopped themselves from initiating a close personal relationship
271 (25%) from applying for work
218 (20%) from applying for education or training
The researchers noted that higher levels of experienced discrimination were associated with: several lifetime depressive episodes; at least one lifetime psychiatric hospital admission; poorer levels of social functioning (widowed, separated, or divorced); unpaid employed; looking for a job and unemployed.
Experienced discrimination was also associated with lower willingness to disclose a diagnosis of depression for concealing depression vs for disclosing depression.
Interestingly, anticipated discrimination is not necessarily associated with experienced discrimination since 147 (47%) of 316 participants who anticipated discrimination in finding or keeping a job and 160 (45%) of 353 in their intimate relationships had not experienced discrimination.
The authors conclude that "discrimination related to depression acts as a barrier to social participation and successful vocational integration. Non-disclosure of depression is itself a further barrier to seeking help and to receiving effective treatment." It is suggested that steps should be taken to reduce or prevent discrimination and stigmatization of people with depressive disorders.