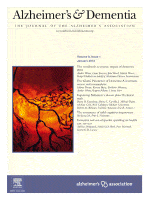 Published today, the Society of Nuclear Medicine and Molecular Imaging (SNMMI) and the Alzheimer's Association have jointly published the first criteria for the appropriate use of this imaging technology to aid in the diagnosis of people with suspected Alzheimer's disease.
Recently has it become possible to create high-quality images of the brain plaques characteristic of Alzheimer's disease in living people through positron emission tomography (PET).While elevated beta amyloid plaques are one of the defining pathologic features of Alzheimer's, many elderly people with normal cognition also have elevated levels of these plaques, as do people with conditions other than Alzheimer's dementia. Therefore, the potential clinical use of amyloid PET requires careful consideration so that its proper role may be identified.
To develop the new criteria, the Alzheimer's Association and SNMMI assembled an Amyloid Imaging Taskforce (AIT) consisting of dementia and imaging experts to review the scientific literature and develop consensus recommendations for the clinical use of this promising new technology. The AIT concluded that amyloid imaging could potentially be helpful in the diagnosis of people with cognitive impairment when considered along with other clinical information, and when performed according to standardized protocols by trained staff. In addition, they emphasized that the decision whether or not to order amyloid imaging should be made only after a comprehensive evaluation by a physician experienced in the assessment and diagnosis of cognitive impairment and dementia, and only if the presence or absence of amyloid would increase certainty in the diagnosis and alter the treatment plan.
According to the AIT, appropriate candidates for amyloid PET imaging include:
Those who complain of persistent or progressive unexplained memory problems or confusion and who demonstrate impairments using standard tests of cognition and memory.
Individuals meeting tests for possible Alzheimer's, but who are unusual in their clinical presentation.
Individuals with progressive dementia and atypically early age of onset (before age 65).
Inappropriate candidates for amyloid PET imaging include:
    Those who are age 65 or older and meet standard definitions and tests for Alzheimer's, since a positive PET scan would provide little added value.
    Asymptomatic people or those with a cognitive complaint but no clinical confirmation of impairment.
Amyloid PET imaging is also inappropriate:
As a means of determining the severity of dementia.
 When requested solely based on a family history of dementia or presence of other risk factors for Alzheimer's, such as the ApoE-e4 gene.
 As a substitute for genetic testing for mutations that cause Alzheimer's.
 For non-medical reasons, such as insurance, legal or employment decisions.
Amyloid imaging is not covered by insurance at this time, and costs for the scan are "out of pocket." While costs of amyloid PET are not yet established, and PET costs in general can vary depending upon location, other PET scans are known to cost between $1,000 and $3,000, or more. Nonetheless, the AIT concluded that the proven sensitivity and specificity of the new radiopharmaceuticals for brain amyloid and the known association between brain beta amyloid deposition and Alzheimer's suggest these new radiopharmaceuticals could potentially be helpful in the workup and diagnosis of patients with cognitive impairment.