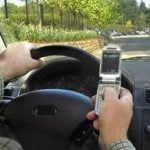 A study in JAMA Pediatrics evaluated newly licensed drivers ages 16-17 years old and the impact of distraction (via cellphone conversation or texting) on those with ADHD (n=28) and those without ADHD (n=33). The authors define distracted driving in 3 ways. It can be "behavior performed while driving that involves taking one's eyes of the road (visual), hands off of the wheel (manual), or mind off driving (cognitive)." This study is the first to address the combined risks of adolescence, ADHD, and distracted driving.
After a short practice drive on a driving simulator, participants completed a 40 minute drive. They were instructed to "drive as you normally would," and were told that during the drive, they would receive telephone calls and text messages to which they needed to respond. Participants practiced using a text-enabled cell phone equipped with a hands-free headset. The 3 conditions (cell conversation, texting, no distraction) were balanced over the time spent in the simulator.
Results after controlling for months of driving history, adolescents with ADHD demonstrated more variability in speed and lane position than control subjects. There were no differences in braking reaction time. The effects of cell phone distraction were large and evident across multiple driving behaviors (ie, average speed, speed variability, and variability in lateral position). As predicted, texting was the most impairing distraction primarily because of the need to divert one's visual gaze from the road while texting thus creating a visual distraction that impairs one's ability to maintain a constant speed and central lane position.
According to the authors, motor vehicle crashes (MVCs) result in over 32,000 deaths and approximately 2.8 million injuries per year. "Adolescent drivers, especially newly licensed drivers, contribute disproportionately to rates of MVCs. In fact, adolescents are 4 times more likely to be involved in a MVC than drivers older than 20 years of age."
The researchers concluded that "texting significantly impairs the driving performance of all adolescents and increases existing driving-related impairment in adolescents with ADHD, highlighting the need for education and enforcement of regulations against texting for this age group."
Source: JAMA Pediatrics