CME Outfitters Demonstrates Best in Class at the 37th Annual Alliance for Continuing Education in the Health Professions Conference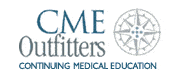 CME Outfitters (CMEO) receives outstanding responses from two CMEO poster presentations, and two interactive breakout sessions at the Alliance for Continuing Education in the Health Professions Annual Conference
CME Outfitters (CMEO), a leading international provider for continuing medical education, is proud to announce findings of demonstrated excellence in a feedback survey among many stakeholders at the annual meeting of the Alliance for Continuing Education in the Health Professions (ACEHP). CME Outfitters authored and produced two poster presentations for this four-day conference. These posters were displayed in the halls of the conference center, allowing conference participants to browse during session breaks.
A compelling poster presented an in-depth look at outcomes data from a recent CMEO activity and the resultant outcomes article entitled "A Simplified Model for Educational Outcomes Measurements (EOMs): Change in Serum Lipid Monitoring Rates in Patients with Bipolar Disorder." These data demonstrated direct level five performance-based outcomes; the results rose to statistical significance regarding change in clinicians' behavior for serum lipid monitoring in a population at risk for cardiometabolic syndrome. For example, the percentages of patients monitored by clinicians nationwide (in U.S.) who participated in the CME activity increased by 17.8% over 1 year from baseline (p = .00001). Gross, median monitoring rates in the national study group increased from 30% to 80%, and all clinicians at or above the 75th percentile of monitoring rates monitored 100% of their patients after participating. Monitoring rate increases for clinicians in the nationwide learner group were greater among clinicians with higher patient counts. The local study group at the Lindner Center of HOPE increased gross monitoring by 28.0% (from 27.5% to 55.5%), or a 102% increase over baseline rates. The co-sponsors, USF Health and CME Outfitters gratefully acknowledge support from Janssen Pharmaceuticals, Inc., administered by Janssen Scientific Affairs, LLC, and Lilly USA, LLC, for the "Change in Serum Lipid Monitoring Rates in Patients with Bipolar Disorder" educational research study and the foundational educational activities upon which the article was based.
CMEO displayed another poster that detailed educational effectiveness and advanced outcomes data. This poster demonstrated that the CME Outfitters 2010 Annual Chair Summit meeting had a statistically significant impact on positive patient health outcomes. The poster was entitled "Ask the Expert Meets Peer-to-Peer: Outcomes from the 3rd Annual Chair Summit – Master Class for Neuroscience Professional Development. During the outcomes studies, participants were asked if they changed their clinical decision-making processes or any direct patient care as a result of participating in the 3.5-day Chair Summit conference. The responses were overwhelming, with 62% of respondents saying, "Yes." USF Health and CME Outfitters also acknowledges support from AstraZeneca, Cephalon, Inc., Janssen Pharmaceuticals, Inc., administered by Janssen Scientific Affairs, LLC, Lilly USA, LLC, Pfizer, Inc. and Sepracor, Inc. for the "Outcomes from the 3rd Annual Chair Summit – Master Class for Neuroscience Professional Development" educational research study and the educational activity upon which it was based.
CMEO received an overwhelmingly positive response from the meeting's attendees. Participants enjoyed the informative display and congratulated CMEO on their exceptional outcomes analyses, a core competence at the company. Joy Bartnett Leffler, CMEO's Senior Medical Program Director and Director of Educational Research & Outcomes remarked, "It is exciting to share such compelling data with our colleagues in the CME community. At CMEO, we work every day to demonstrate that well-designed and thoughtfully executed educational activities can make a difference in the lives of patients. Our collaborators helped us to achieve these significant results. CMEO continues to set the pace for educational outcomes that improve clinical practice…one change at a time."
CME Outfitters was proud to be accepted as a presenter at the ACEHP this year as well. CMEO Managing Partner, Shari Tordoff, CCMEP, presented during a breakout session on day two of the conference. Ms. Tordoff worked alongside Karen Roy and Dr. Thomas Roth, from University of Michigan on an educational session detailing: Publications in CME: Disseminating the Data to Multiple Audiences. Objectives of this presentation were to allow learners to identify publications opportunities for their own CME program, implement a strategic publications plan targeting both education and medical literature, engage faculty in publications development and harness CME publications for internal CME advocacy. Positive buzz was created around this session as participants were tweeting their approval of Dr. Thomas Roth joining the live presentation via Skype. Participants were impressed not only by the content of the session, but also by the successful fluidity of the presentation with use of modern technology.
CMEO's leadership in the CME community continued to be highly visible at the annual meeting of the National Association of Medical Education Companies (NAMEC). In addition to receiving the award for Best Practices in Collaboration Among CME Stakeholders and the 2012 Brian P. Russell Exemplary CME Professional, CMEO Managing Partner, Jan Perez, CCMEP who serves as the Chair of the NAMEC Program Committee, facilitated a highly interactive session entitled Developing a Funding Strategy When Multisupport Falls Short. The town hall style discussion was very unique bringing together competitors to share ideas and brainstorm strategies related to managing funding shortfalls for multisupport grants, which is a universal challenge facing medical education companies today. "We were a little hesitant about the session and concerned that no one would want to give away their secrets, but were overwhelmed by the group's willingness to share and work together to tackle one of our biggest challenges", stated Perez.