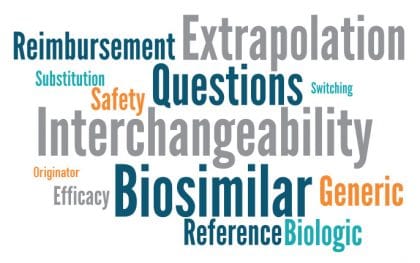 Biologic agents have been proven to be highly effective in treating inflammatory diseases; however, many health care plans restrict the use of these agents due to rising costs. In April 2016, the first biosimilar monoclonal antibody for inflammatory diseases, infliximab-dyyb, was approved by the FDA. Three additional biosimilars have been approved in the U.S. since and many others remain in developmental stages.
As with any newly approved treatment option, there are many important questions surrounding the details of biosimilars in treating inflammatory disease from clinicians and patients alike: What do the terms interchangeability and extrapolation mean for my practice? Are these agents as efficacious as their reference biologic?  How does the development and manufacture of a biosimilar compare to the original biologic? Can my patients expect to see a significant cost savings?  How does a clinician even go about ordering biosimilar agents?
Patients have also reported a significant lack of knowledge among clinicians on the topic of biosimilars and how they may be utilized to treat their inflammatory disease, while also decreasing cost of care.
CME Outfitters has created this Biosimilars Hub to provide the much needed education to clinicians and patients about these newly approved agents through an array of free online activities. The Biosimilars Hub offers clinicians the option to participate in short CME Snacks or an in-depth On Demand webcast to find the answers to the above questions and equip themselves with the knowledge necessary to confidently explain the interchangeability, efficacy, and safety of biosimilars to patients with inflammatory diseases.
I just completed your biosimilars activity and it was excellent! I had a GI patient ask about biosimilars and I will admit, I didn't feel I could confidently address her questions so I told her it wouldn't apply to her right now. After your program, I realize I need to do my part to talk about these agents with patients.
Download These Free Biosimilars Resources for Use in Your Practice
Patient Resource
Biologics and Biosimilars: What Patients Need to Know
Download Now
Physician Resources
Scientific Considerations in Demonstrating Biosimilarity to a Reference Product
Download Now
Quality Considerations in Demonstrating Biosimilarity of a Therapeutic Protein Product to a Reference Product
Download Now
Biosimilar Biological Products
Download Now