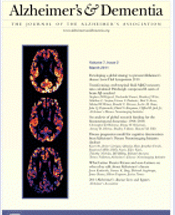 For the first time since 1984, clinical diagnostic criteria for Alzheimer's disease dementia have been revised, and research guidelines for earlier stages of the disease have been characterized to reflect a deeper understanding of the disorder. The National Institute on Aging/Alzheimer's Association Diagnostic Guidelines for Alzheimer's Disease outline some new approaches for clinicians and provides scientists with more advanced guidelines for moving forward with research on diagnosis and treatments.
Two notable differences from the earlier AD criteria are incorporation of biomarkers of the underlying disease state and formalization of different stages of disease in the diagnostic criteria. Biomarkers include physiological, biochemical, anatomic parameters that can be measured in vivo and that reflect specific features of disease-related pathophysiological processes. These have been developed and are being validated.
The core clinical criteria of the recommendations regarding AD dementia and MCI are intended to guide diagnosis in the clinical setting. However,  two new phases of the disease: (1) presymptomatic and (2) mildly symptomatic but pre-dementia, are intended purely for research purposes at this time. This reflects current thinking that Alzheimer's begins creating distinct and measurable changes in the brains of affected people years, perhaps decades, before memory and cognitive symptoms are noticeable.
The new guidelines appear online April 19, 2011 in Alzheimer's & Dementia: The Journal of the Alzheimer's Association. They were developed by expert panels convened last year by the National Institute on Aging (NIA), part of the NIH, and the Alzheimer's Association.
Sources: