A New Brain Health App for Alzheimer's Disease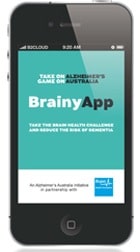 The Bupa Health Foundation and Alzheimer's Australia have announced the UK launch of a world-first brain health app, the latest digital tool to help in the fight against dementia.
Based on latest research that links brain health and a reduced risk of dementia, to a healthy heart and cardiovascular system, 'BrainyApp' is the first dementia risk reduction iPhone app designed to help people monitor and improve their brain-heart health.
The new app, which was designed by Alzheimer's Australia and Bupa Health Foundation, has already knocked Facebook off the number one spot in the Australia and New Zealand Top Free Apps list and has clocked up more than 130,000 downloads down under. Now available to people in the UK, 'BrainyApp' helps users monitor and improve the physical, mental, dietary and social aspects of their lifestyle.
According to Jeremy Hughes, Chief Executive, Alzheimer's Society, "Most people know how to reduce their risk of heart disease, diabetes and stroke but they don't realize that the same healthy lifestyle choices may also lower the risk of developing Alzheimer's disease and other kinds of dementia.  The idea is that what is good for the heart is also good for the brain."
'BrainyApp' allows users to take a brain-heart health survey about their diet, exercise patterns and lifestyle. It then provides suggestions and ideas about how to make improvements to each. It also includes all-new brain games, and encourages users to build brain-heart points by staying physically and mentally active, socializing with friends and family, and sharing their progress on Facebook. One of the brain games – 'Word Tennis' – requires players to unscramble anagrams in order to move a paddle and hit a ball back to their opponent.
Director of dementia care for Bupa Care Services, Dr Graham Stokes, said: "There is evidence to show that keeping the mind exercised can stave off the onset of dementia but 'BrainyApp' highlights that good physical health also has a part to play. Best of all it's good fun."
App features:
Brain health survey – see what your brain health score is and receive personalised recommendations on what you can do to improve your brain health
Brain games – give your brain a work out with interesting and challenging games
Activities – add to your brain health points with a range of activities including exercise, eating well, getting health checks, keeping your mind active and managing your smoking and alcohol intake
Monitor your Brain Health Points and track your progress over time
Get a daily fact sent to you from BrainyApp
Share facts and your brain health scores with friends and family
This app is available for download from iPhone, iPod Touch and iPad only in the UK App Store but you can access and download here.
Source:
PR Newswire
Bupa Foundation